2023-05-24
From Dull to Dazzling: 5 DIY Enhancements that will turn your Deck or Patio into a Lavish Outdoor Retreat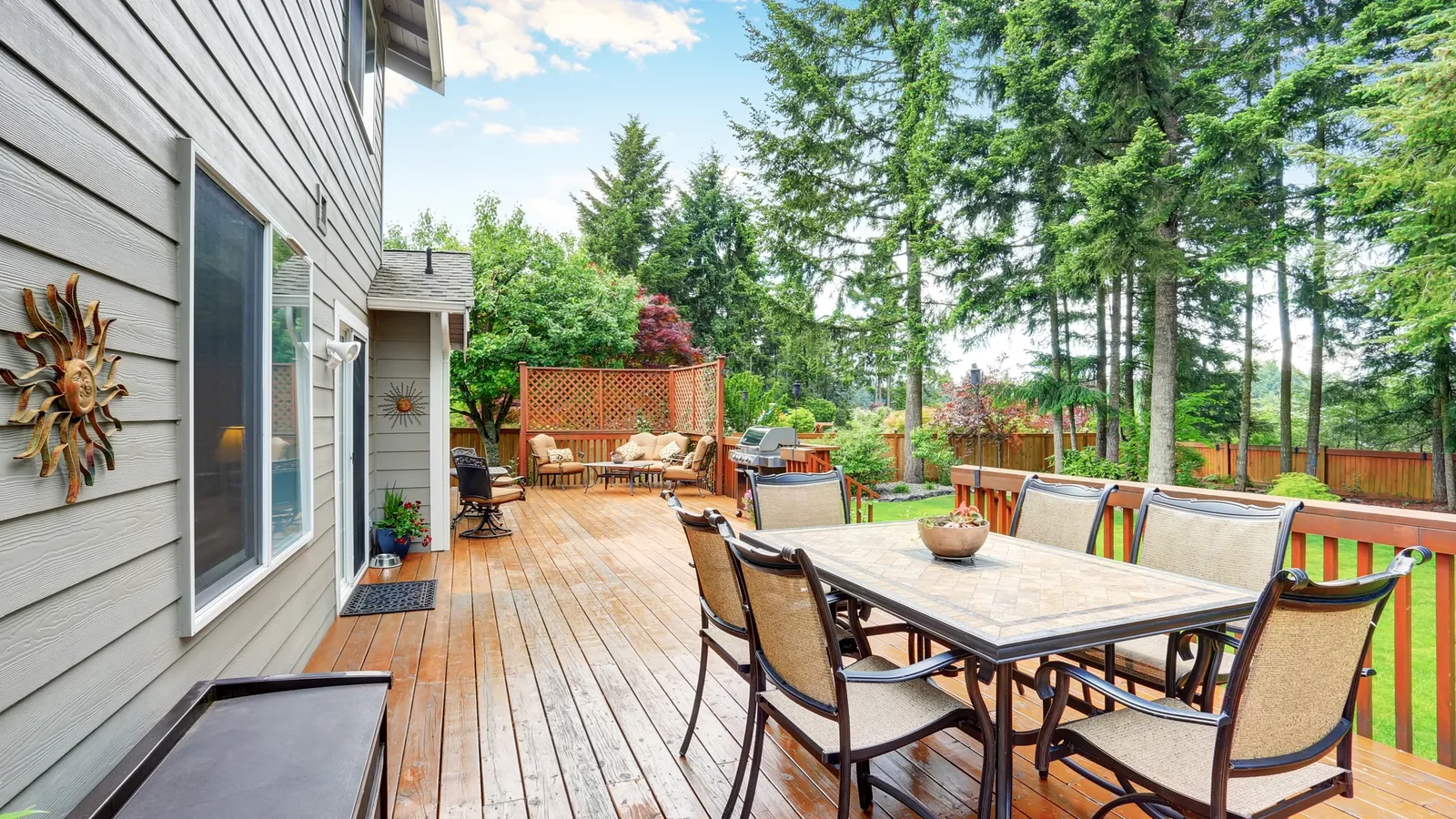 Summer and outdoor enjoyment go hand in hand, and there's no better place to soak up that sunshine than on your deck or patio. Whether you are entertaining guests or finding some peaceful time alone, a well-maintained deck enhances these moments and makes them much more enjoyable. So, us being crafty here at TruBlue, have decided to cover some steps that you can do to truly bring the life back into your deck, or patio DIY style.
1. Inspecting and Cleaning your Deck or Patio
Before anything else, it's extremely important to inspect your deck for safety issues. Look specifically for loose or broken boards, rusted nails or screws, or signs of rot. These need to be dealt with prior to doing anything else with your deck.
The next extremely important step is to clean your deck or patio. To clean your deck or patio, you can use a stiff-bristled brush with a deck or patio cleaning solution you can pick up at a local hardware store to help get any grime, mildew, or stains off. Make sure that after, you rise everything off completely and allow, especially your deck, to dry before continuing on.
2. Refinishing Your Deck
Refinishing your deck is also incredibly important when it comes to both the longevity of your deck as well as its overall design. There are three different types of ways you can refinish your deck.
1. Staining: Staining provides your deck with an enhancement of the natural beauty that your deck began with. It will help show off the wood grain through transparent stains, while semi-transparent stains provide color and showcase the wood, and solid stains provide you with the maximum color and coverage.
2. Painting: Painting gives you the options of higher durability as well as a wide range of color options.
3. Sealing: Lastly, Sealing gives you the ability to even further protect your deck from the elements and extend its life even more.
Refinishing your deck is the most labor-intensive of all tasks you can do as far as updating your deck goes, however, it does provide your deck with both a longer life, as well as a beauty you just can't beat.
3. Installing Lighting
Lighting is incredibly important when it comes to having a fully functional outdoor space, not only does it increase the safety of your deck or patio, but it also extends your space's functionality into the evening hours.
4. Add Comfort & Accessories
Adding comfort to your deck or patio can be done in many different ways, whether that be adding a shade or umbrella, pillows, or more outdoor seating, it helps provide you with more seating for entertaining guests as well as more places to lounge when you want space to yourself. Two other things to consider, especially if you are interested in entertaining guests are a firepit and a rug. Having a nice lounge area on your deck/patio that has a firepit, also allows you to be comfortable on cool summer nights.
5. Incorporating Plants
Adding plants can help add some natural beauty to your deck. Whether you want to add ferns, flowers, or even a small vegetable garden for some fresh food, there are so many options when it comes to bringing nature to your deck.
When undertaking a DIY deck improvement project, you'll not only increase the usability of your outdoor space but also add value to your home. However, if these tasks seem daunting or time-consuming, don't worry, TruBlue is here to help!
From decks & patios to general handyman maintenance, our professionals have the expertise to handle these tasks and more. If you'd like to enjoy a beautiful, updated deck this summer without the DIY hassle, contact your local TruBlue today. We're here to help you make the most of your home, inside and out.